Posted in Parenting, Motherhood by Sarah Jayne on Tue Jun 11 2019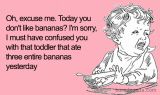 I love my child…but!
Let me start this post by saying I love my daughter to death. Seriously, she is quite possibly the most amazing human being in the world. The reason I have woke up daily, and nightly, for the past two years. I laugh at least once every day and always get the biggest cuddles in the morning. I love her with an intensity that is unprecedented; however, I don't always like her! That's right, I'll say it – sometimes my child is a bit of a dick.