Posted in Parenting, Motherhood, School holidays by Susie on Wed Sep 04 2019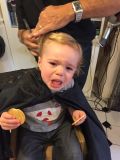 Preparing your young man for his first haircut.
By Dave H - Owner Hairmasters, Stony Stratford
In my last 30yrs of cutting hair..I have experienced the good and bad preparation of bringing your young man for a haircut for the very first time.
This can be made a fun and exciting experience of preparing him for his first trip to the barbershop.