Week 3: A week of family dinner ideas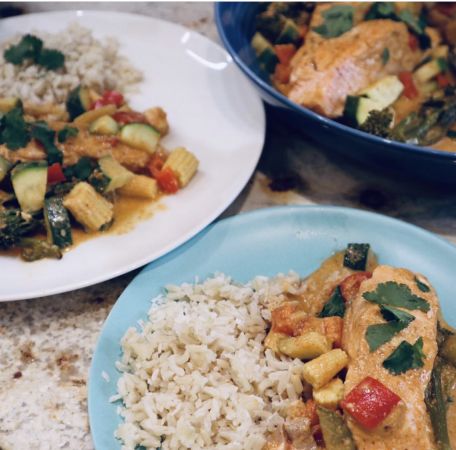 Monday: Baked Red Thai salmon: Massive hit with my Nourished Mums because it's so easy just to throw it all in the oven and delicious. Here's the recipe.
Tuesday: Pesto chicken traybake: Faff free with minimal preparation and washing up! Woohoo! Just bake chicken breast stuffed with pesto, along side, new potatoes, red pepper, green beans and tomatoes (put the tomatoes in 10mins before the end). If no pesto you could stuff with garlic/butter or a cheese and spices such as paprika.
Wednesday: Spicy bean tacos: Great recipe over on @bbcgoodfood

Thursday: Flatbread pizza: Super fun and easy to make with the kids
Friday: Slow cooker veggie tikka masala: It's the end of the week so this easy Friday curry night is just what you need - keep an eye out for the recipe hitting my @wellnourishedclub grid Monday/Tuesday.