Posted in Product Reviews by Susie on Mon Aug 16 2021
New School Shoes! 👞👞
We have just had the most wonderful school shoe fitting experience with Shoedini Shoes in Milton Keynes and have come home with two fabulous pairs of Start-Rite Shoes school shoes for the kids.
Posted in Product Reviews by Susie on Thu Mar 07 2019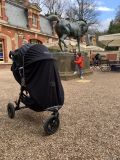 MAMAS, want to be beach ready? I have found the perfect thing for you! The Snoozeshade is a must have sun shade for your pram this summer! And if the sunshine lets you down I've discovered so many more uses for this incredible accessory! Oh...and it's sibling proof too... read on for more!!!