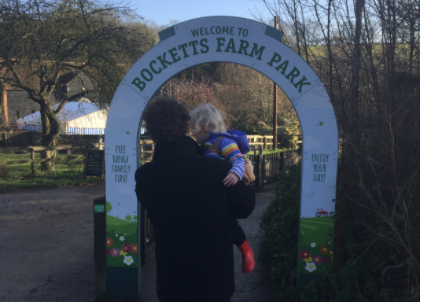 Bocketts Farm Park
Bocketts Farm Park
Open today from 1000 until 1730
There is no end of things to do! Animal handling, pig racing, goat milking, pony rides, feeding llamas and alpacas and goats and sheep, an amazing indoor soft play and outdoor park and everything is geared towards children. The meals are appropriate and suit both children and adults too.
Recommended by Georgia Gillies with children ages 2 - Mon Jan 02 2017
Activity Type
Open farms, safari parks and zoos
Parks, walks and outdoor fun
Restaurants and food
Outdoor activities
Indoor activities
Softplay
Details
Address:

Young Street Fetcham Fetcham Surrey England United Kingdom KT22 9BS

Contact:

01372 363764

Adult price:

£9.5

Child price:

£

Infant price:

£

Other price:

See the website as they change seasonally and for different age groups

Website:
Facilities
Available for kids parties
Good food for parents
Double pram friendly
Suitable for twins/multiples
Pram/Wheelchair accessible
Has a childrens menu
Baby changing available
Opening Hours
Sunday

1000 - 1730

Monday

1000 - 1730

Tuesday

1000 - 1730

Wednesday

1000 - 1730

Thursday

1000 - 1730

Friday

1000 - 1730

Saturday

1000 - 1730
Reviews
There are 3 reviews for "Bocketts Farm Park"
Recommended by Gemma - Muthahood on Wed Jul 10 2019
Looking for a place to entertain the kids in for the whole day, and by the whole day, I absolutely mean it. We were there for four hours and still only scratched the surface of what Bocketts Farm had to offer. I can now see why it's won awards and I think that although it initially seems a little pricey for entry, it is absolutely worth every penny. What I was absolutely blown away by was the sheer variety of activities and the varied locations in which they took place. This meant the even though it was absolutely heaving with visitors it never once felt over crowded. Plus they have a pig race... you had me at pig race! As you first walk through the gates you're in the fantastic all-weather centre area. The noise of giggling and happiness is such a joy that the girls just ran to where they wanted to be. It was excellently managed and not at all stressful, they weren't at all overwhelmed and were just keen to explore. Although there's a sense of excitement, it never once felt chaotic, just incredibly happy. There's the ride on toy area, monitored trampolines and then an indoor soft play obstacle course with fantastic multi slide that kept them busy for an age. It was the perfect place to base ourselves in the midday sun and makes it a go to place to visit when the weather's bad too. There were enough tables around for parents to take a perch and supervise, plus the cafe just round the corner meant that we could stay hydrated - the girls on water, and us on the caffeine. Just off to the side, and still undercover, there's a small animal area. Lots of cute bunnies and guinea pigs for the kids to run between and we were lucky enough to catch a petting session where the girls got to see the animals up close. We may or may not have shouted 'GENTLE TOUCHING' once or twice, but the staff were very kind to the kids, even with the all the excitement surrounding getting to actually touch Fluffy. Outside is where the abundance of choice really takes over. There are larger animals to see, pony rides, an excellent sand play area, playgrounds, go karting, circus skills and tractor rides. In all honesty, we barely scratched the surface of Bocketts in those four hours. We'd only just ventured outside when the need to visit the gift shop hit us, and that gift shop is good. I'd say the variety of what's on offer is so good that it's the perfect place to take siblings and given the amount we didn't even get time to do it's a place I can see us visiting time and time again. We had lunch in the fantastic barn, the selection was great, the food came quickly, and because there's so many areas for people to picnic around the site we found grabbing a table easy enough. In all honesty I was apprehensive when we first went. It was a baking hot Saturday and I braced my whole being for a stressful day of monitoring the kids and a deep worry of overcrowding, but it was an absolute highlight. Even though it was busy, it didn't feel overwhelming. The girls had fun and could have stayed for hours more, but there's only so much a little body can take so we whisked them away. Thankfully the slice of cake at the cafe gave us half an hour more of play before the end arrived. Thanks so much for having us! We'll be back again soon.
Recommended by Mikki with children age 3 on Wed Jun 13 2018
Amazing farm full of animals, indoor, outdoor play facilities, pig racing and tractor rides. There is a café on site and baby changing facilities however the café does get quite busy so a picnic is recommended. The entrance fee is quite pricy (in my opinion) for a farm however it is a fab day out.
Recommended by Ruth Pignal-Jacquard with children age 3 on Thu Sep 28 2017
This is our favourite local day out. The farm is really sweet, just enough animals and there are so many things to do whatever the weather. Indoor soft okay with fab mat ride slide, outdoor play areas and timed activities. The pig race is our favourite.