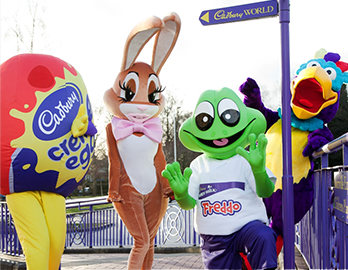 Cadbury World
Cadbury World
Open today from 1000 until 1600
A great day out. You need to book for this as it can get really full. (Book a couple weeks in advance). Its really worth it, go on a nice day though as there is an outdoor park area and a 4d cinema experience which is in a marquee, so take coats. You get an amazing amount of history on the place. It's quite interactive, so even my youngest enjoyed it as the cinema seats shake and there's lots of fun interactive things for them. You are always given chocolate throughout the manufacturing area, where you get to choose your own topping.
There is a ride with the cocoa beans through the ice cap and through the jungle within the 4d cinema which is great - you have to wear 4D glasses and all the seats move. Its like you are actually a cocoa bean. It's perhaps not great if you only have a very young child, but if you have two of different ages it can be good. My toddler really loves it and my youngest thought it was fun too. It's a little pricey but a great day out. A twice yearly activity maybe. You can take a picnic if it's a good day but there is a good restaurant with good variety of food.
Recommended by Caroline with children ages 3 and 1 - Sat Apr 09 2016
Activity Type
Museums and cultural activities
Outdoor activities
Indoor activities
Details
Address:

Linden Road Birmingham United Kingdom B30 2LU

Contact:

0844 880 7667

Adult price:

£17.5

Child price:

£12.85

Infant price:

£

Other price:

Book online for bigger discounts and guaranteed entry.

Under 4s are free.

Website:
Facilities
Good food for parents
Double pram friendly
Suitable for twins/multiples
Pram/Wheelchair accessible
Has a childrens menu
Baby changing available
Opening Hours
Sunday

0930 - 1600

Monday

1000 - 1600

Tuesday

1000 - 1600

Wednesday

1000 - 1600

Thursday

1000 - 1600

Friday

1000 - 1600

Saturday

0930 - 1600
Reviews
There are 2 reviews for "Cadbury World"
Recommended by The Wiki Mama with children ages 6 and 4 and 1 on Mon Dec 09 2019
WOW! What an amazing day. We've just returned from a brilliant visit to Cadbury World which is currently in full festive swing! We arrived around 12:30 and went straight into the Santa Show.It was really brilliant with a little sing along of Jingle bells, a couple of magic acts from Santa, and a chocolate gift for all the children on the way out! After a quick go on the slides (the kids I mean) we then enjoyed the 4d cinema which was absolutely amazing, much better than expected. The seats move just like a simulator, and you are taken on a chocolate making adventure, inside the factory then outside to the worlds largest rollercoaster ride... I can't explain it, you just have to experience it! We then had time to squeeze in the Snow White and the Seven Beans pantomime! Its a brilliant little performance about 25 minutes long that really entertained both kids and adults with slapstick humour and typical pantomime interactions (warning - you may get squirted with water!). Finally it was time to go on the self guided tour. Here you are loaded up with chocolate bars to enjoy while you take in the history of Cadbury, the family, the chocolate, the factory and the building of the Bournville community. Its SO interesting. The first bit loses the kids I think who are impatient to get hands on, but very quickly you get to draw with chocolate, you get to see special items being made, there is a little ride and a great area at the end for the kids to run about and burn off the sugar they've inhaled with interactive projection floor games. Ours loved it! The whole experience lasted approximately 4 hours although could have taken longer if the weather was warmer as the play area outside would have kept our lot busy for at least an hour, along with the outside eating areas for the adults which would have been lovely in warmer weather. With the added extras we felt that it was a great day out. You are given loads of chocolate on your way around, and everyone really enjoyed themselves. The pantomime, Santa Show and 4D cinema really make the day special. At approximately £17pp its not a cheap day out but its an absolute treat and one for the memory book! We loved it!
Recommended by Phyllis on Tue Oct 24 2017
A great place for young and old, filled with history and chocolate!! There are samples and you get to see how the chocolate is made. The car ride and magic show are good for the children. You would only spend half a day here or even a few hours at a push and it is expensive. I'd book when they have their special offers on. There is a good cafe on site.