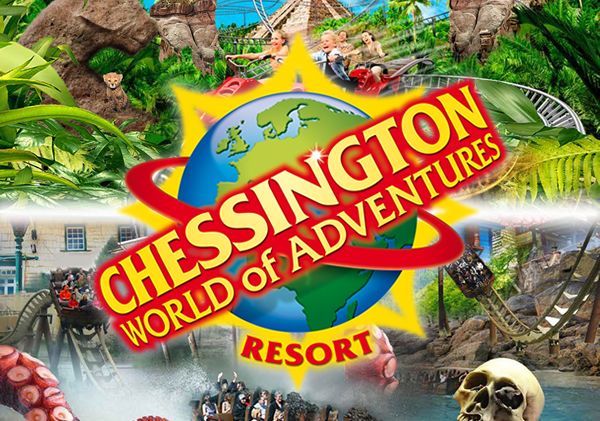 Chessington World of Adventures Resort
Chessington World of Adventures Resort
Closed right now, see opening hours
We've taken the children to Chessington several times now and enjoyed it every time. We stay in the main hotels and they are great at catering for families. They have a swimming pool with a splash play section for younger kids. 2 restaurants, one of which is a buffet. Evening entertainment for the children including mini disco. Zoo with petting area, sea life centre as well as the main park area with rides. We love going for the Santa sleepover, where you get to meet Santa and decorate cookies and they have the zoo and sealife centre open (rides are closed at this time of year). You can get some great deals for staying over night.
Recommended by Katie with children ages 7 and and 8 - Sat Dec 24 2016
Activity Type
Parks, walks and outdoor fun
Swimming and splash parks
Places to stay
Outdoor activities
Details
Address:

Leatherhead Road Chessington Greater London England United Kingdom KT9 2NE

Contact:

0871 663 4477

Adult price:

£27.6

Child price:

£27.6

Infant price:

£0

Other price:

See site for seasonal prices

Website:
Facilities
Available for kids parties
Good food for parents
Double pram friendly
Suitable for twins/multiples
Pram/Wheelchair accessible
Has a childrens menu
Baby changing available
Opening Hours
Monday

Closed

Tuesday

Closed

Wednesday

Closed

Thursday

Closed

Friday

Closed

Saturday

1000 - 0400

Sunday

1000 - 0400
Reviews
There are 4 reviews for "Chessington World of Adventures Resort"
Recommended by Laura Baker with children age 2 on Sun Jun 02 2019
Chessington was always my favourite day trip as a child so I was excited to take my toddler on a day out, just the two of us. He loved it! Although many of the rides are for older children, there were enough for him too. He particularly enjoyed the Scorpian Express. He also really enjoyed the aquarium which is one of the more modern ones we have been to. It does get busy there in the school holidays so if you can, go in term time.
Recommended by Vicki Mercer with children age 4 on Fri Apr 06 2018
Been visiting annually since Rosie turned 2. Park appropriate for younger children before hitting the likes of Thorpe Park etc when they are older. Lots to do - loves the new Gruffalo focus. The live stage shows are fab Love the aquarium & zoo on site. Hoping she's finally tall enough this year to do the Safari! ;) Food is quite pricey so recommend that you take a pack up
Recommended by Michelle Trewin with children ages 3 and 3 on Sun Dec 03 2017
My boys loved it here! There is plenty for their age group, but also a lot they can grow in to. They loved the gruffalo ride! The aquarium & Zoo were also a hit! I'd recommend taking a picnic as food is over priced within the park.
Recommended by Corrine hayler with children ages 6 and 3 on Sat Jun 10 2017
Fully recommend going in term time as queues only 5/10 minutes (upto 30 minutes for the bigger rides but obviously have to be over 1.2m or 1.4m). If you buy the preschooler (upto 5 years) and adult ticket online it is only £20, can only be used term time though.