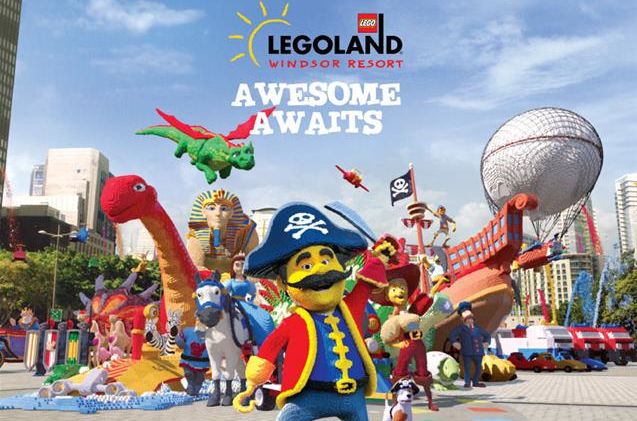 LEGOLAND® Windsor Resort
LEGOLAND® Windsor Resort
Open today from 1000 until 1800
Big enough and small enough to get your full day of fun! Milly & Charlie were in LEGO Heaven. We went on a Tuesday during the Easter half term and the queues were just 10/15 mins long. My husband and I went there expecting Lego Hell however we were pleasantly surprised. We managed to go on everything and see everything we wanted. I used my Tesco vouchers and walked straight through without any waiting. A big happy box ticked!!
Recommended by Jo Sefton with children ages 10 and 11 - Sun Apr 16 2017
Activity Type
Parks, walks and outdoor fun
Places to stay
Restaurants and food
Outdoor activities
Indoor activities
Softplay
Details
Address:

Winkfield Road Windsor Windsor and Maidenhead England United Kingdom SL4 4AY

Contact:

0871 222 2001

Adult price:

£

Child price:

£

Infant price:

£

Other price:

Prices range from £32 to £60 pp depending on buying online in advance or on the door tickets. Best to book over a week in advance. Under 3s FREE.

Website:
COVID-19 Safety Measures
Electronic payments accepted only
Hand washing facilities available
Staff dressed in PPE
Masks/ Gloves available to purchase
Hand gel available
Temperature checks and health monitoring
Limited tickets and restricted public admission to facilities
Social distancing measures in place
Enhanced cleaning and new deep clean measures in place In place. Food outlets with new grab and go menus Reduced capacity in any inside areas
Facilities
Good food for parents
Double pram friendly
Suitable for twins/multiples
Pram/Wheelchair accessible
Has a childrens menu
Baby changing available
Opening Hours
Sunday

1000 - 1800

Monday

1000 - 1800

Tuesday

1000 - 1800

Wednesday

1000 - 1800

Thursday

1000 - 1800

Friday

1000 - 1800

Saturday

1000 - 1800
Reviews
There are 7 reviews for "LEGOLAND® Windsor Resort"
Recommended by Sarah on Sat May 15 2021
Legoland is an amazing day out, perfect to go in the week when quite with your pre school age kids. I do take my older ones to who love all the fast rides but there is so much for the little ones too. 0.9m is perfect as it mean you can go on so much with an adult rollercoasters, boats, cars and much much more. Food and Drinks are on the expensive side as with more places like this but plenty of places to see for a packed lunch. There is even a real good playground. I've never queued for long than 15mins in off peak times. MUST SHARE book online as some great offers but the best by far if you have pre school kids over 0.9 is the pre school ticket just £25 for one adult and child!
Recommended by Maree @mummademarket with children age 3 on Wed May 22 2019
I've had lots of messages about Official LEGOLAND Windsor and in light of some improvements I'm trying to make on here thanks to Wee Bit Social I thought I'd tell you a bit more about our day. It won't be anything like the amazing reviews I read on Wiki Places For Kids one of my new favourite follows to research fab days out but I'll do my best just because you asked. First thing - we live in Essex and the journey took nearly 3 hours. Leave earlier if you can't avoid rush hour like us. I bought tickets online as well as parking. Thank you everyone who helped on my poll - £6 parking was ideal. We did go on Tuesday term time so it wasn't particularly busy. Be prepared to queue if you go at another time. At most we waited 10minutes - phew! 😅 I had a 3 year old measuring over 1m but under 1.3m (next stage up) he went on everything he wanted to. Obviously, the bigger rides were not suitable for a preschooler - it was easy to figure out. I was surprised how much nearly 2 year old could do (under 0.9m) accompanied by me she went on: Subamarine ride, Hot air balloon, carousel, laser raiders, big wheel and boats. It's not just about rides though, they all loved miniland more than we thought! We had a much needed rest at 2pm and watched the Pirate Show - wow! Finished the day with a visit to Duploland - the best play park I've ever seen and half hour in the splash park. ______________________________ Mummy round up: take a change of clothes, towels, loads of snacks & drinks, you will need a pram (or hire a buggy there), leave early in the morning, wish I'd taken pyjamas, if you stay till 5 when it closes it still took us an hour to exit and cajole very sad little people it was home time, consider staying the night (I didn't want to come home), use a Kellogg's UK & Ireland voucher for a free child ticket. . If like me you're wondering whether its worth £49 per ticket - YES! If like me you're wondering whether your little ones will be able to do much - YES! I felt like a kid again, loved every minute and I did this solo parenting. If you can go with another mummy friend with similar age children you've cracked it! . "Can we go to Legoland every day Mummy?" Thomas, aged 3 😍 @ Official LEGOLAND Windsor
Recommended by Three Surrey Mummies with children age 2.5 on Sat Oct 21 2017
Yesterday we went to Legoland Windsor & there was SO much to do! 👍🏼 My daughter is still in the 0.9m range & there are plenty of rides for that height 👌🏼 She went up in a hot air balloon ride 🎡on a dragon rollercoaster 🎢 on the teacups ☕️ a really fast train ride 🚂 & wondered around the Miniland which she loved! 🏙 Lots of rides for all the big kids too 🎢🎡 There is so much more we need to do & see here & definitely need to go back! They have loads arranged for over Half Term 👻 so you will be spoilt for choice on what to do 🎃
Recommended by Lindsay on Tue Jul 04 2017
We absolutely loved our 2 days at legoland. We went on a Monday and Tuesday and stayed locally overnight. Monday was busy (some rides were 40 mins queueing time), Tuesday was quieter with waits of 10-15 mins. Splash park is awesome. Take your swimmers and a towel. Pricey. But it's always going to be. Food is in plentiful supply as are toilets and grounds are amazingly well kept. Staff are super friendly. Pre booking parking is easier. A super super 2 days. We will return....
Recommended by Rhianna with children age 3 on Tue May 30 2017
Took my three year old son recently and can safely say there is plenty for all ages, even adults! Wheelchair friendly, the park is very big so I'd recommend taking a buggy if your little one might get tired. There is indoor and outdoor activities as well as lots of rides for all ages and shows to watch. I went on a rainy day and found that there was no where undercover to eat a picnic as everyone else had already used up the benches. So if you plan to go in rain, take brollies and waterproofs and something to sit on! Highly recommend a visit. Legoland does get incredibly busy at peak times
Recommended by Lucinda with children age 4 on Mon Dec 05 2016
From age 3 up its an amazing day out for the family. Lots to do, expensive but well worth the money!! My son loved it!!
Recommended by Wendy with children age 4 on Wed Oct 12 2016
Mini Lego people everywhere, themed areas, lots of rides, it really is a theme park for little people. Part of the Merlin group, although it's expensive (very expensive) there are always offer's around in spring summer. We used a cereal packet voucher to give us a free child pass with a paying adult. Other local friends often enjoy the pre-school pass. We chose to go midweek, in October to avoid the que's. What resulted was no wait for any ride which with a 4 year old is heaven. It was well worth taking the day off work during term time. This did mean we couldn't enjoy the splash park which is supposed to be epic. Our favourite ride was Atlantis, a submarine experience with real fish. We also took in the free Pirate show which was excellent. Opening days and times vary depending on the month of the year.