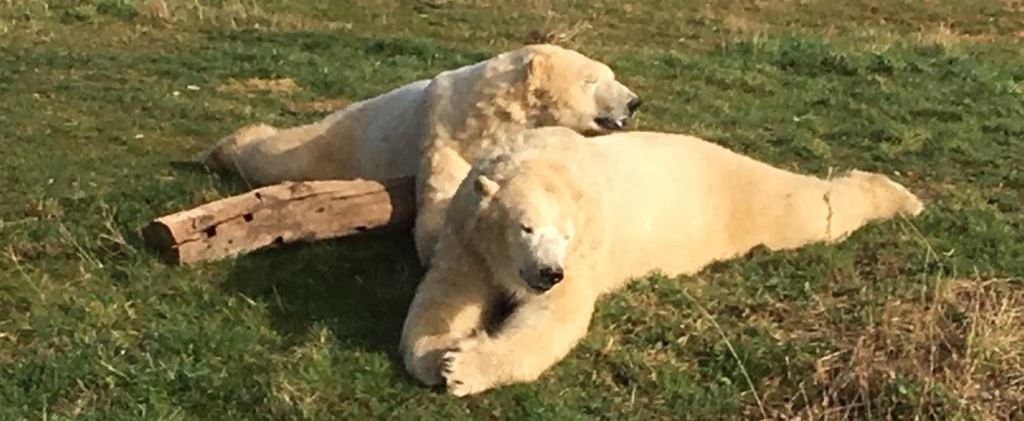 Yorkshire Wildlife Park
Yorkshire Wildlife Park
Open today from 0930 until 0400
Yorkshire wildlife park is packed with a range of animals from meerkats to polar bear. There's lots of space dotted around the park for a picnic or cafes for a treat. For older children, there's soft play, indoor slides and outdoor climbing areas and parks.

Recommended by Jemma from mymummymanual with children ages 11 and months - Sat Aug 19 2017
Activity Type
Open farms, safari parks and zoos
Parks, walks and outdoor fun
Restaurants and food
Outdoor activities
Indoor activities
Details
Address:

Hurst Lane Auckley United Kingdom DN9 3QY

Contact:

01302 535057

Adult price:

£21

Child price:

£19

Infant price:

£0

Other price:

Ok There's a range of prices I.e £1 discount for booking online.

Website:
Facilities
Good food for parents
Double pram friendly
Suitable for twins/multiples
Pram/Wheelchair accessible
Has a childrens menu
Baby changing available
Opening Hours
Monday

1000 - 0400

Tuesday

1000 - 0400

Wednesday

1000 - 0400

Thursday

1000 - 0400

Friday

1000 - 0400

Saturday

0930 - 0400

Sunday

0930 - 0400
Reviews
There are 8 reviews for "Yorkshire Wildlife Park"
Recommended by Nic with children age 5 on Sat Aug 15 2020
We really did enjoy this Place, it was clean considering how many visitors were there, lots of places to sit for lunch (we brought a picnic so cannot comment on food provided) lots of outer bins so no excuse for littering. I felt the covid19 changes were good,Lots of hand wash / sanitise stations, however there is no social distancing with other visitors at all, cramming around you to see the animals no matter what. I felt like the sign posting could of been better and a lot more maps of the park I think we only saw 1.I know they might not want to dish out paper copy's but put boards up so you could go direct to what you wanted. Same goes for toilets, more needed for the amount of visitors and better signage. Would defiantly go back despite above comments
Recommended by Emma with children age 1 on Sat Aug 15 2020
A lovely outdoor space with some great animals.
Recommended by Emma with children ages 7 and 5 and 2 on Sat Jul 11 2020
Feels super safe. Very organised.
Recommended by Amy James with children age 2 on Tue Jun 23 2020
We visited on Father's Day after it has recently opened with social distancing measures in place. You have to book online and get an allocated time to arrived. The queue to get in was all marked out and easy to keep distance. Once inside there was lots of measures in place. One way on some areas around the park and lots of signs. The signs were sometimes a little small but still kept with the theme of the park. Sometimes some areas felt a little crowded but was easy just to walk away from places. I would recommend going on the latest time, we arrived at 2pm and by 5pm the park was empty even though it didn't close until 6pm. My daughter loved running around at this bit. It's quite a long walk round so take buggy's and also take everything you need from the car as you can't go back to the car. The toilets were open and fine. There was someone outside limiting people going in and some cubicles were out of order so you could social distance inside. There was food places open for takeaway and you could take a picnic too. The animals were as amazing as ever and some new ones have moved in too! Some areas were closed, the ones that you can walk inside and all indoor areas but this didn't limit anything. It's well worth a visit and felt good to be able to get out and about again!!
Recommended by Amy james with children age 2 on Wed Nov 20 2019
We are so lucky that this amazing place is local to us! It's a full day out and perfect for kids and adults of all ages. With lots of animals to see and all set in a wildlife park setting. This doesn't feel like a zoo at all. There is a few places to eat and also a covered area to take a picnic too. Our favourite animals to see are the polar bears and the giraffes! There's a few play areas too and even walking around is bound to blow off some energy for the kids.
Recommended by Emma with children ages 2 and 4 on Sun Nov 10 2019
We love a visit to the Yorkshire Wildlife Park, there is something different to see each visit. With lots of animals to see around the park, and often baby ones, or something new going on at the park! It is a large area to walk around so pushchairs or carriers are better for little legs or those that tire easily. Our favourites are the giraffes, rhinos and the otters who are always so playful! As well as the animals there are talks on the animals at certain times/locations during the day and also a big show in the arena area which is fun as well as informative. If you have any questions the staff are extremely knowledgeable and only too happy to help and answer questions about the animals. There are also a couple of play areas in the park, a large wooden climbing frame/house in the trees and a wooden climbing frame, aerial runway and sand pit near the camels. There is also an indoor play area which is a fantastic huge wooden climbing frame, situated next to a hot food cafe serving food such as burgers and chips. Other places to eat include a cafe near the giraffe house- our preferred spot and the soup is good value or the cafe before going through the main gates which serves the best food. Prices are not the cheapest for what the food is, however there are loads of picnic places around the park! The park often runs event days which can be extremely popular so be prepared for busy days. However they are excellent with professional shows, characters and performances. We can always rely on the YWP for a great day out!
Recommended by Chloé Angel with children age 2 on Thu May 09 2019
What a fabulous day out! Big open plan, super clean, amazing views of all the animals! It's a full day out with animal interaction, soft plays, picnic areas and live shows. They have different play areas which are so fun for all ages. As you walk round the park they have information about the animals and how they came to live at Yorkshire wildlife park. I would recommend this for all ages and great family day out.
Recommended by Claire Sowerby with children ages 4 and 2 on Fri Jan 18 2019
An amazing family day out, with lots of different areas and animals to view and research. It is an easy to navigate layout, making it suitable for prams, wheelchair users and little ones who are perfecting their independence! This is one of our 'full day' favourite places to visit, and if you buy an annual pass in January, you often get a discount, meaning you only have to visit 3 times to get your money back! I would recommend taking your own food, as there are lots of picnic areas, which is great fun in dry weather, and means you can enjoy seeing the animals for longer! It also makes it a cheaper option so you can treat yourself to an ice cream or cake treat! Although there are a number of places to eat, one of the best is the cafe in the courtyard before you enter the park, as they do a good balanced menu for kids. The cafe near the Giraffe House is also a good option, my two particularly like the pick your own lunch box! The other provisions provide a selection of chips, nuggets, hotdog, burgers etc. There are lots of educational talks that are put on throughout the day, in and around the different areas; this is an opportunity to learn a few more interesting facts about the animals in the park! Have fun!