Eurocamp with us in France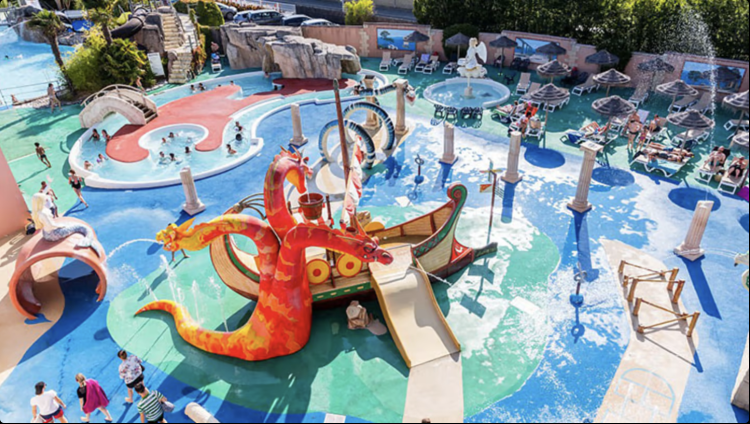 We had THE MOST FUN holidaying in the Vendee over half term. We stayed at Le Clarys Plage with @eurocampholidays courtesy of lovely Emma @bestchildfriendlyholidays who organised the whole thing.
Our campsite was perfectly set up for families with an enormous pool including slides, lazy river, splash park and a huge pool, as well as a toddlers pool and a warm under cover pool too!
We didn't make it but there was also another pool on the other side of the campsite too that's quieter and calmer which would be great for families with really small ones - or no kids at all.
Every day they offered a kids club (all included in the costs) that was split into three age groups from 4 year up. Lily went along and loved it. At 6:30 each day there was also a kids disco, much more suited to young children like Lily who loved it and couldn't wait each day for her picture with Rumi the Red Panda!
The campsite also offered two large parks, an outdoor soft play/ agility zone, a sand football pitch and grass pitch too. PLUS an animal zone with goats and ducks!
We were literally within 5 mins walking distance to the beach and 15 mins drive to amazing beaches slightly futher along the coast at St Jean de Monts, where we also found a good range of restaurants, a great market and went on a 6 person peddle quad bike. So fun. And hard.
Just outside the campsite was also a strip of shops and restaurants to mix up the food available from then on site restaurant which was quite limited. Plus a U express which was basically the size of a Tesco here!
Our lodge was compact but as long as we kept tidying up after ourselves it was completely fine. We had the Azure 3 range which had three bedrooms - one double and two twins.
The bathroom was great with an awesome hot power shower and plenty of shelving and storage for bits and bobs.
The covered decking outside our lodge ran the full length and I think width of the the caravan too and doubled the space we had available to eat and bbq (they supplied a bbq). We also had two Sun beds and two relaxing chairs.
We were perfectly fine with only one fan supplied but I think in the heat of summer you may want to opt for an air conditioned unit and one with more space potentially if you can.
A little tip, ours didn't have a toaster or bottle opener so bring those, everything else you might need was supplied including a microwave, kettle, gas cooker.
Towels and linen can be bought as a package on top which really helped us as packing those would have been a pain.
I'd recommend taking an extension plug to charge all your devices over night and also a foreign adapter to make things simpler. We didn't have an extension and it was a proper pain 🤣
The only things that were not total positives were the entertainment which we didn't feel was as good as Haven parks we've been to, but was still ok and we did have fun.
And we found the costs of food, drink and ice creams on the campsite quite pricey/ prohibitive vs the quality.
To add to our trip and break up the 9 hour trip from and back to Calais we opted for two super good value air bnbs, which even when you added the toll roads was still cheaper than the St Malo crossing which might have removed 5 hours of travel each way. But it's a longer journey.
I have to say we had such a great time. I would definitely go again and next time I'd probably opt for something with slightly more space. But as you don't spend much time in the mobile anyway this is really not that important as this rest of the site was perfectly situated.
The kids had the time of their lives (I air tagged them all so that we could relax a bit about where they were), the weather was incredible, and we all just loved it.
So thank you so much to Best Child Friendly Holidays for giving us the opportunity to review Eurocamps. We will definitely be visiting again and highly recommend.
Do make sure you take a look at Emmas, 'Best Child Friendly Holidays' to book your next family holiday.
And look here for all Eurocamp destinations.
Our Eurocamp campsite can be found here.
Our trip costs were as below (give or take):
Crossing £180 both ways
Diesel from Milton Keynes to campsite £300
Toll roads £120 (optional)
Accommodation c£500 (half term week)
Spending money 🤪💰💰💰💰🤑
Plus two nights @ airbnbs c£65 per night.