by Susie on Fri Aug 06 2021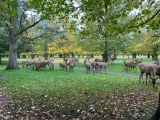 Natasha Davies @thesurreymumma has come up with THE best places to visit in Surrey!
"I've lived in Surrey now for 4 years and a big reason my husband and I moved here is because it was so similar to where I grew up (and met hubby!) in the Cotswolds. Lots of lovely green, leafy places everywhere but also close enough to the hustle and bustle of London (pre-Covid obvs!). Fast forward to 2018, we had our first baby and then in September 2020, our second was born. Throughout my parenthood journey so far, we've been so lucky to have made some incredible memories with the children. Here are my top recommendations...."