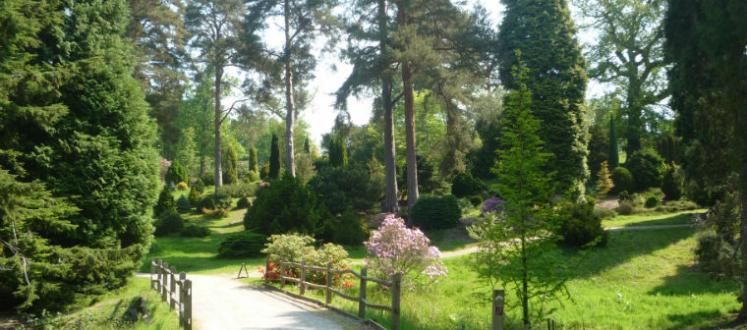 Bedgebury National Pinetum & Forest
Bedgebury National Pinetum & Forest
Open today from 0800 until 0800
A brilliant outdoor forest with loads of different interesting rope swings, slides, obstacle courses, climbing frames and a big sand pit with a pirate ship in it. Enough for little ones too but great from age 4 and up. Really really good cafe that overlooks the lake. Not great on a rainy day though and parking expensive (£15 - BUT its free other than that).
Recommended by Olly with Reuben & Zara (age 6 and 4) - Tue Jul 18 2017
Activity Type
Parks, walks and outdoor fun
Outdoor activities
Details
Address:

Bedgebury Road Goudhurst Kent England United Kingdom TN17 2SJ

Contact:

01580 879820

Adult price:

£

Child price:

£

Infant price:

£

Other price:

£15 Parking charge - but then free entry

Website:
Facilities
Double pram friendly
Suitable for twins/multiples
Pram/Wheelchair accessible
Baby changing available
Opening Hours
Sunday

0800 - 0800

Monday

0800 - 0800

Tuesday

0800 - 0800

Wednesday

0800 - 0800

Thursday

0800 - 0800

Friday

0800 - 0800

Saturday

0800 - 0800
Reviews
There are 5 reviews for "Bedgebury National Pinetum & Forest"
Recommended by Emma with Madeleine (age 3) , Felix (age 1) - Tue Jul 18 2017
Absolutely incredible forest park with lots of activities including a gruffalo trail plus other walks and cycling tracks.
Recommended by Hannah with Josh (age 7) , Leo (age 4) - Tue Jul 18 2017
Bedgebury is fantastic for all ages. It has mountain bike tracks, huge play areas, Gruffalo and Stick Man themed adventure trials and Go Ape. You can hire bikes there, they also provide bike buggies for the little ones (attached to adult bike). There is a large cafe and restaurant with all the key facilities. It was £12 for a car entry. £3 for the Stick Man Trail pack, which had activities and questions in. £1.5 for Gruffalo orienteering map. We thought it was amazing value, we spent all day there. Lots of beautiful picnic areas to have lunch. Dogs welcome too. We didn't do Go Ape as kids have to be a 1m tall. £18 per person. Looked amazing though!
Recommended by Vic with Wilf (age 4) - Tue Jul 18 2017
Everything is brilliant about this place if you're after fun outdoors - there's miles and miles of walking, biking, playgrounds, Go Ape, everything!
Recommended by Jo - Tue Jul 18 2017
Lots to do and it's outdoors. Great cafe and you can even feed the ducks too. Lots of car parking spaces and loads of different walks to keep the kids busy.
Recommended by Katie Cowley with Max (age 4) - Tue Jul 18 2017
Great outdoor space for family day out. Play area, go ape, bike hire, cafe. Stick man trail!