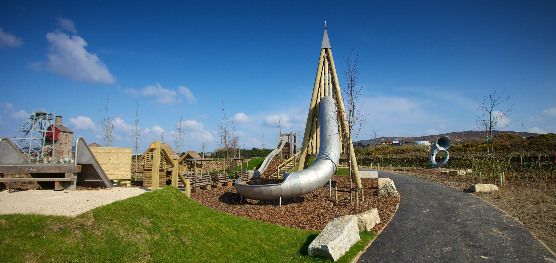 Heartlands
Heartlands
Open today from 0900 until 1700
Heartlands is a mining heritage site with a free tour around the Robinson Shaft, plenty to look at and even dress up as a miner! Outside is several large play areas with equipment, sand, bark, natural tunnels, slides, water play. There are cafes and local businesses plus events are run and on Sundays they have play sessions for £4 per child.
Recommended by Hannah with children ages 9 - Thu Jul 13 2017
Activity Type
Parks, walks and outdoor fun
Restaurants and food
Outdoor activities
Details
Address:

Robinson's Shaft Dudnance Lane Redruth Pool Cornwall England United Kingdom TR15 3QY

Contact:

01209 722320

Price:

Free

Website:
Facilities
Good food for parents
Double pram friendly
Suitable for twins/multiples
Pram/Wheelchair accessible
Baby changing available
Opening Hours
Sunday

0900 - 1700

Monday

0900 - 1700

Tuesday

0900 - 1700

Wednesday

0900 - 1700

Thursday

0900 - 1700

Friday

0900 - 1700

Saturday

0900 - 1700
Reviews
There are 0 reviews for "Heartlands"