LONDON ZOO'S LODGE SLEEPOVER
Posted in Days out on Tue Dec 13 2022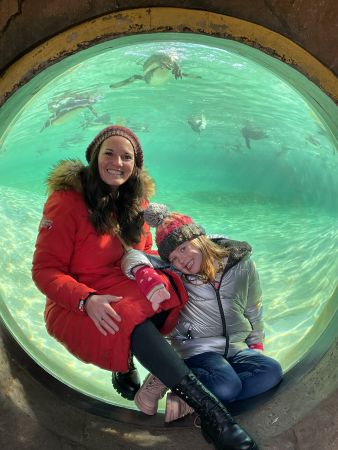 ZSL SLEEPOVER!
If you saw my stories over the weekend you'll have seen that Jacob, Tilda and I had the most amazing night on Friday, sleeping over next to the Lion enclosure in London Zoo!!!!
Yes you heard right. We SLEPT THERE! We joined a small group of other families and each slept in one of the Zoo's Lodges. Ours was called 'Comet' and was just so lovely and cosy, nestled into the corner of the Lodge area which was beautifully twinkly and all set up for Christmas! As was the rest of the Zoo.
We even had a surprise visit from a very special guest indeed who came to find out what the kids might like for Christmas and delivered a little souvenir.
The experience overall was magical. After checking into your Lodge at 4pm, you begin the first part of the nighttime tour. Our first stop was to meet the Indian lion and lioness. Although they were fast asleep behind the glass it was amazing to be only inches away from these incredible animals.
We also visited the Porcupine, Komodo dragon, bush babies and lemur! And our guides were just amazing, huge shout out to Lucy the Zoologist who was a walking encyclopaedia and left us all very well informed!
Did you know that female Komodo dragons don't even need to meet another male to lay eggs and have babies of her own!! And little known fact, they also are known to eat their young!!
Half way through we were fed a much needed meal, I went for Coq au Vin which was very good! The kids had sausages and nuggets with wedges and were very happy.
Part two of the tour took our little group to see the Bugs and down to the elephant bunker and everyone returned home just before 9:45. Unfortunately my two were not coping so well with the temperature dropping to 0 degrees plus end of week tiredness so we had to retire earlier.
The Lodges are small but cosy and totally big enough given you are only sleeping in it. I had a pull out sofa bed to myself - lovely, and the kids each had a single bed. Each Lodge has its own bathroom with shower (although I could not get a happy balance between freezing/ boiling water 😬). It was also well stocked with tea, coffee and milk (and kettle). Once we'd got the heater going we had a lovely warm nights sleep.
The next morning we were up and out by 7:50 to head for breakfast but before I tell you about the second days tour I have to impress on you how AMAZING it was to be woken by the sounds of the Zoo from the Lodge. You could hear the Lions stirring, the gibbons (a father and son duo) calling to each other, and as the flamingo and pelicans were right behind us, we could hear them going about their daily rituals of washing, eating and communicating. It was honestly magical.
Breakfast is a hot or cold buffet and was perfect for filling you up for another full day at the zoo. The tour itself ended at 10am when the general public start filing back in, but in that time we met the Galapagos tortoises, Coates, Camels, Alpaca and Llama, Jimmy the Gibbon, the penguins and most wonderfully the Tiger mama and her two 6 month old cubs!!! 😍😍😍😍
It was actually a dream come true to have the entire zoo to yourself for the whole night. To hear the sounds so clearly, and go behind the scenes, and see animal life in a totally new way. And it really does bring to life the concept of a "night at the museum"!
It's something we will never forget. And at £435 for a Lodge for 4 (children must be over 5yrs) it's not hugely different to what you'd pay in a London hotel, however your dinner and breakfast are included, plus a full days access to the zoo on the second day. The experience is completely enriching and a once in a lifetime memory.
Our tips for those planning to go are:
- Feed everyone up before the tour starts, and/ or take snacks, as dinner is 7pm which was late for my hangry 9yr old.
- Wear a LOT of layers in the winter and very good footwear in zero degrees.
- Take a battery pack for your phone as you'll take a lot of pictures
- Be ok with missing parts of it if your kids need a break. The whole thing is magical whichever part you do
- We felt the experience was best suited to children 8 upwards given the late dinner and finish
An unforgettable experience, thank you to @zsllondonzoo for inviting us xxxx