Posted in Days out , Kids days out , Half Term, Parenting, School holidays by Kim on Mon Mar 14 2022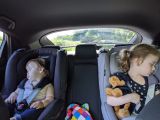 Ok so you have been on the Wikiplacesforkids app - you've picked your destination for your big day out...BUT it means a long car journey with littlies. Do you need help on what to pack and how to survive ? Look no further !!
Obviously this is all age dependent but the principles are the same - you want to keep them ( and you ) happy and entertained for as LONG as possible.