by Chloe Lowe on Mon Nov 21 2022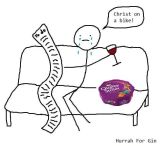 Christmas is one of the busiest times of year for parents. The pressure to create a jolly and festive experience for everyone builds like a mountain of mince pies threatening to crumble at any minute.
This year - we've replaced our Christmas-with-Covid concerns with the rising cost of keeping our homes warm and families fed and clothed, let alone spoiled with extra special treats and gifts. Like many, you might be choosing to scale back your celebrations this year. But that doesn't mean you won't still have a lot to juggle.
If you need a little support, this blog in collaboration with Chloe from the Parent List App looks at how we can help manage the mental load of Christmas while still creating lots of family fun and a little magic.
Image Credit: Hurrah For Gin